Welcome to The Goldbergs and Schooled OFFICIAL Wiki!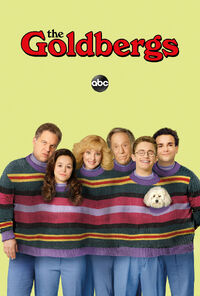 The Goldbergs is a TV show that premiered in 2013, that received a spin-off show in 2019 titled Schooled.
The 2013 series follows Murray and Beverly, their two older children Erica and Barry, and their youngest child, Adam, who documents his family life with his video camera. Beverly's father, Pops, is frequently around to provide advice or to help out his grandchildren (often behind his daughter's back).
Schooled follows Lainey Lewis who returns to William Penn Academy as the new music teacher. has a hard time adjusting to being an authority figure, but becomes infatuated with Rick Mellor, a gym coach at the same acamedy.
Both shows have received high claim, with The Goldbergs being renewed for season 8, and Schooled being renewed for its second season. Inspired by the childhood of Adam F. Goldberg, these connected tales are not to be missed!
We are currently editing 414 articles and the community is making 18,013 edits. We are the go-to place for all things The Goldbergs and Schooled!
The Goldbergs
The Goldbergs are a loving family like any other. As the years pass, new dynamics, new relationships and even some new characters are introduced. As long as the family face the challenges, ups, downs, twists and turns of life together, life will be sweet.
The Schooled Team
Schooled, set in 1990-something, follows the hilarious faculty of William Penn Academy. Despite their eccentricities and crazy personal lives, these teachers are heroes to their students.
Goldbergs and Schooled Wiki
The Goldbergs and Schooled Official Wiki is created by fans, for fans, aiming to provide a definitive database on all material relating to The Goldbergs and the spin-ff show, Schooled.
Want to help out? Sign up for a free account and start editing today!
Community content is available under
CC-BY-SA
unless otherwise noted.