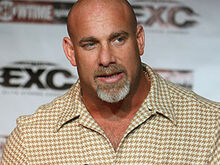 William Scott Goldberg (born December 27, 1966) is an American professional wrestler, actor, football player, and mixed martial artistcolor commentator. He is known for his time in WWE and World Championship Wrestling (WCW) under the ring name Goldberg.
He portrays Nick Mellor in The Goldbergs.
He is not related to any of the real Goldbergs Family.